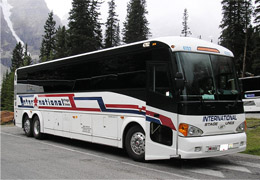 Operating since 1978
Western Canada and the Pacific Northwest
Fleet of 35 motor coaches
20, 47, & 54 passenger coaches
Professional drivers




International Stage Lines has been providing private charter motor coach & driver services since 1978. We operate a fleet of 35 coaches, serving a variety of group sizes, as they travel to various destinations.

Our 47 & 54 passenger motor coaches are ideal for local conference shuttles, city tours, day trips, and overnight trips to Seattle, Victoria, Whistler, and the Canadian Rockies. Our services are fully licensed for travel to anywhere in the USA, and we meet all USA DOT regulations.
Our coaches are well maintained, we manager our own maintenance facility at our central Dispatch operations in Richmond, BC.
Our 20 passenger mini coaches are ideal for small groups, and residential pickups. These vehicles are used for airport transfers, city tours, conference shuttles, parking lot shuttles, and evening social events.

Our 47 passenger motor coaches are ideal for midsize groups, needing transportation to dinner, cruise ship terminal transfers, train station transfers, multiday charters to Canadian Rocky Mountain teams. These coaches are priced to be affordable to many youth groups, hockey teams, and non-profit associations.

Our 54 passenger luxury motor coaches are our newest coaches, they feature 3-point seatbelts, as we are anticipating changes in Canadian & USA Transport Regulations that will require seat belts on coaches. With over 20 coaches in this seating capacity makes these coaches a suitable choice for large conferences, or travel to remote destinations.