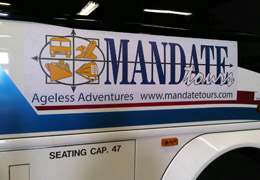 With our fleet based in Vancouver, Victoria & Calgary, we are well positioned to serve your group travel needs in British Columbia, Alberta and Western USA.
Fleet of 40 coaches, in a variety of seating capacities, 56, 47, 39, 28, 20 passenger vehicles.
Our drivers are very knowledgeable of all major touring routes in British Columbia & Alberta.
Contract specific model & coach type for tours through Canadian Rocky Mountains.
Alaska Pre Post Cruise Tours in Vancouver.
Vancouver Sightseeing with Step-on-Guide or Driver Narration.
Airport, Rail, Cruise Ship to Hotel Transfer Services.
Optional Group Tours of Vancouver, Victoria & Whistler may be arranged on short notice.
We can assist with British Columbia Ferry Reservations.
We can assist you with tour planning and routing information of your tour.
After Hours operations, you will be advised of emergency contact telephone number at time of confirmation of trip.
Fully licensed to pickup groups in Washington State for travel to Canada. Primary USA Gateway Seattle WA.
Fully licensed to pickup groups in Calgary Alberta for travel in Alberta and to British Columbia.
Vehicles stationed in Victoria, Vancouver, Kelowna, and Calgary.
All coaches with Signage Display, Air Conditioning, Panoramic Windows, PA System, DVD Player, individual reclining seats, and ample baggage storage.
Drivers are trained in all aspects of vehicle and passenger security and safety.
Motor coaches are inspected routinely by maintenance team along with driver maintenance status reports.
We operate our own maintenance facility, located at our main bus yard, servicing our coaches on a continual basis.