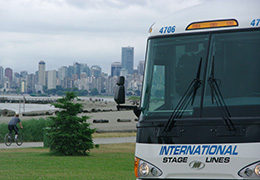 International Stage Line's fleet is stationed 15 minutes from YVR Airport, our close proximity to YVR Airport, and 30minutes from Downtown Vancouver, enables us to be responsive to flight changes, schedule changes, and with our fleet of 40 coaches, allows us quickly to add coaches should demand increase.


Shuttle Route Development & Logistics

We will work closely with the conference organizer and event / meeting planner, to determine the most effective routes and frequency for shuttle services from Hotels to Event Locations and meetings at Vancouver's Conference Centers. We will time a specific route, to determine the optimum frequency of travel, between the selected hotels and events. We will assess the capacity of coaches, to minimize waiting time and maximize seat occupancy.

With our varied size vehicles in our coach fleet, are able to increase frequency of service, and include hotels not within walking distance of the Vancouver Convention Center.

The Vancouver Convention Center is situated only 5-9 minutes from any Hotel in Downtown Vancouver. This short travel distance to any hotel, allows us to serve larger groups with fewer vehicles, when compared to other cities in North America. We will ensure an effective transportation with a minimal number of coaches. We can use small minicoaches to improve frequency, and suggest specific departure times to help maximize ridership.


On-Site Staff

We work with a number of Vancouver based Destination Management Company's who can provide on-site staffing as well as creative sightseeing options for your conference. We can arrange on-site staff for monitoring transportation flow of coaches, and to coordinate services in direct communication with our central dispatch office. We will work closely with event organizers to ensure a safe and effective transportation plan is in place,to minimize congestion at event locations and while traveling through the city.


Bus Parking, Staging Zones

We will assist the event organizer and work closely with city officials to ensure that all routes, pickup points, and special event requirements are met.


Communication

All ISL coaches and drivers are in 2-way radio communication with a central dispatch office, and with each other. We also have a secondary radio channel, so that we can prioritize large events with their own channel. We will work closely with your Transportation Team, to ensure that drivers are properly informed of their routes, and their respective responsibilities.


Cell Phone

Our drivers do have private cell phones for emergency use only. If immediate and direct conversation is required with our drivers, we will provide guidelines for communication, to ensure that driver's are not being required to communicate while driving.

For more information on arranging conference shuttle transportation services please email contact us.