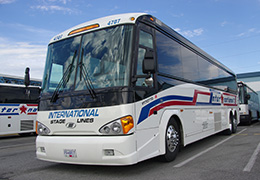 For groups travelling to Vancouver Island via BC Ferries, we are able to make the necessary group reservations and payment.

During the peak summer months, when traveling to Victoria BC from Vancouver, sailings depart on the hour. During non-peak months, sailings depart on the odd hour, 7am, 9am, etc..

Groups must arrive at the Ferry Terminal 30 minutes prior to the reserved sailing.

Groups must reserve BC Ferries 1 week in advance to receive the group rate discount, for groups of 15+. Reservations for specific sailings may be made as late as 24hours before departure.

All of our driver's possess BC Ferry account cards, so payment can be easily made on behalf of the group, however we do need to pre-arrange authorization at time of booking, to authorize proper payment and/or invoice.

We have coaches stationed in Victoria & Vancouver, which allows us to easily coordinate motor coaches at all ferry terminals, to help keep costs down by having people walk on and off the ferries.
Ferry Terminal Procedures for Walk-On passengers.


We are able to drop people off at the Tsawwassen, Swartz Bay, Nanaimo, Duke Point, and Horseshoe Bay Ferry terminals.
We will be able to easily coordinate payment of ferry passengers, provided a group reservation is made at the time of booking.
If luggage is accompanying the people on the bus, you may wish to keep the bus & driver on the ferry, so as you don't have to manage your own bags.

Also we can help with the arrangements of the following ferry services:

Serving Victoria BC to Port Angeles WA – www.cohoferry.com

Serving routes within Puget Sound and from Sydney BC to Anacortes WA
www.wsdot.wa.gov/ferries/

For more information on other BC Ferry Schedules, Routes, and Rates - www.bcferries.com

If you are planning to reserve your coach, please note that the length of a bus is 40-45 feet.

Our 47, 39, 28 passenger coaches are 40ft long.
Our 20 passenger minicoach is 30ft long.
Our 56 passenger motor coach is 45ft long.

Please contact us for more information.