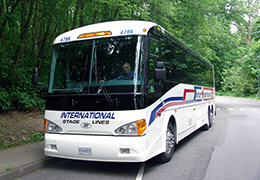 While on tour, it is most likely that you may wish to visit one of the many outstanding Canadian & American National Parks. Parks Canada will assess an individual visit fee, for the passengers on a daily basis. At some USA National Parks a combination of a bus parking and individual admittance may be applicable.



Entrance Fees 2013 pricing - $8.30 per person, per 24 hour day.
We have an account with Parks Canada to admit people to Banff & Jasper, for other parks and National Historic Sites, groups will need to make direct arrangements.
In Our Area - Banff NP, Jasper NP, Yoho NP, Pacific Rim NP, Elk Island NP, Glacier NP, Waterton NP, Kluane NP, Mount Revelstoke NP, Kootenay NP to name but a few…
In Our Area - Mount Rainier, Olympic Peninsula, Mount St. Helens , Crater Lake, Oregon Caves, Yellowstone, Craters of The Moon, to name but a few…
There is a bus parking fee in Stanley Park, please budget $50, group leader pays direct at ticket machine, Credit Cards are accepted.

There is no charge to visit The Fish Hatchery and enjoy the facilities, there is only a bus parking fee of $25.00.
There is a bus parking fee of $20 for up to 3 hours use, however groups may walk from Steveston Village. Please consult with your driver if the group will need to pay the parking fee.


Please contact us for more information.