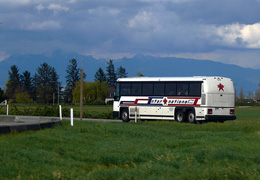 All employees of International Stage Lines are responsible for the safe conduct of passengers aboard our motor coaches. From our sales team, who will work closely with group leaders and tour operators, to ensure that the travel plans meet both USA & Canada Driver hour standards, to verify routes and timing between destinations so that we avoid racing to get to a destination. To schedule relief driver services where needed.

Our Maintenance team, will work closely with our drivers and dispatchers, monitoring all vehicles on a daily continual basis, to immediately correct flaws when reported. We assign our drivers to their own coaches, so that they understand the behavior of the coach, and notice first hand, when something needs to be attended to.

Our drivers, through their professionalism, will operate their vehicle in a safe manner at all times. We will monitor road conditions and advise the group leader possible adjustments to the schedules planned for the day.



Fully authorized to conduct business under the following regulatory bodies:
- National Safety Code Canada – NSC #200-435-368
- Transport Canada – MC14233
- Passenger Transportation Board, BC – PT 70770
- US Department of Transportation – DOT 175917 status: On hold

We conduct regular driver safety & training programs.
Daily inspections of each Motor Coach with written verification of inspection.
Perform routine physical inspections of Motor Coach systems, and perform routine, complete preventative maintenance.
Each Motor Coach is thoroughly cleaned following each trip.
First aid kits and fire extinguishers are onboard each vehicle, and inspected regularly.
All drivers must have a valid driver's license, with a clean abstract.
* All drivers are GPS Monitored for driving habits and vehicle performance, alerting maintenance and dispatcher.


International Stage Lines, has been serving the travel needs of, tour operators, schools, universities, business groups, private clubs, non profit associations, professional sport teams, special events, conference organizers, meeting planners, and government agencies since 1978. We have travelled on average 1.5 million miles per year, on highways, municipal road ways, logging road, and mining operations. We recognize that safety is the most significant priority to ensure that our clients arrive at their destinations, on time and in a relaxed state of mind. We adhere to all Federal, Provincial & State regulations, and conduct safety oriented training on a routine basis.



The safety officer is responsible for chairing the safety committee, establishing, implementing and monitoring the safety programs of the company which include such matters as policies, practices and compiling of and recording statistical reports to catch trends that should develop over time.
Our safety committee is comprised of our Shop & Operations Managers, and members of the Driver's committee. Its focus is to ensure that Driver's are fully aware of their responsibilities through inspections of key mechanical items, such as brakes and tires, as well as safety standards, such as placemenent of fire extinguishers and first aid / medical kits. Inspection of emergency exit signage, and functionality. It is important for us to ensure that from the time an individual boards our motor coaches, that the passenger's safety is well looked after.



To ensure that we are properly kept abreast of changes in industry rules and regulations, we belong to the following organizations. These organizations are dedicated to aiding coach operators with driver training assessments, professional ethics, industry safety & security, crisis management, employee and driver standards, tax law interpretations, motor carrier regulations, networking, marketing, and advocacy issues with Provincial, State, Canada & USA federal regulatory bodies. Through these organizations we are kept informed of changes in regulations in all provinces, and states in North America.

British Columbia Motorcoach & Trucking Association
http://www.bctrucking.com/

Motorcoach Canada
http://www.motorcoachcanada.com/