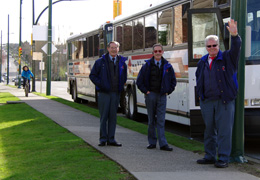 "The general appearance of the drivers must reflect the high standard of service and equipment maintained by the company."

Driver skill, safety, conduct and appearance are key elements in providing enjoyable chauffeured transportation to a group of individuals, clients, friends, and family members. Through our many years of experience, our drivers are trained and accustomed to operating vehicles in all types of weather conditions. Our drivers are courteous, professional, and polite. They will offer their assistance when called upon by the group leader. From looking for a lunch stop, an alternate route to the destination, or suggested stops along the way, our operations team will ensure that your group, does not miss that special sight.



"Our drivers are fully trained in all aspects of vehicle safety and emergency protocols."

One of the key elements of a "safe trip" is the number of hours a driver is able to drive. Through Canadian (NSC) & USA Federal Transport Regulations (DOT), there are minimum standards in place, to ensure that the passengers and general are well served.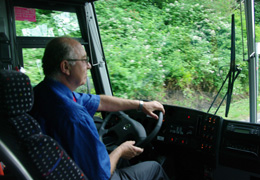 In Canada & USA, law strictly regulates motorcoach drivers' hours of service. These laws limit the number of hours a driver can drive in a day, the length of a work shift and the number of work hours that they can accumulate over the course of a one or two week period. Police or government transportation enforcement officers can examine the driver's logbook at any time during a trip. In addition, audits of driver and company records at the bus company's premises will detect hours of service violations.

Driver Hour Regulations Canada & USA



The International Stage Lines Advanced Driver Training Course
A certificate of Road Test, administered by Federal Motor Carrier Safety Standards
Passed both Defensive Driving and Avoidance Techniques, as recognized by the BC Safety Council
Passed written examination in accordance of Federal Motor Safety Regulations
Passed drug tests in accordance with Federal Highways Administration, and re-tested regularly.
Passed medical examinations, and are re-tested regularly.



Our drivers are well-travelled in all major cities, throughout British Columbia, Alberta, The Canadian Rockies, and the western USA. We are very experienced in driving in Winter Conditions throughout the Western Canada & the Pacific Northwest.

For more information on Hours of Regulations or employment opportunities for drivers, please email info@islbus.com.