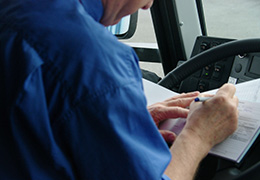 We will ensure your travel programs meet all Canadian & USA regulations pertaining to driver hours of service. There are limitations to the number of hours a driver can drive in a day, how many hours he can drive in a week, the required break time between shifts, and the required minimum days off in every 14 days. It is our responsibility as a carrier to ensure we schedule our drivers within federal standards. We won't tell you what you cannot do, we will tell you how many drivers it will take to get the job done right, and safely.


For trips between Vancouver & Calgary, at least one overnight is required to use the same driver. We can change drivers while enroute to a destination that is too far for a single driver to drive.


When scheduling an itinerary, try to keep the hours of service between 9am and 9pm, at least when you are starting to build your program. Once you have a rough draft of an itinerary, we can easily review the feasibility and quote you accordingly.


We do not ask our drivers to drive distances longer than 450 miles in a single day. Even though the driver may be within his hours of service, for safety reasons, we take this extra precaution, to ensure a safe and well rested driver.


Terrain, Traffic Congestion, Time of Day, Season, and Weather are all factors that limit a driver in his ability to operate a coach safely for a long days drive. We will review every itinerary, noting the routing and timing of each days services.


For express trips to Southern California, we operate coaches with driver sleeping compartments. By having 2 drivers rotating on a regular basis, we can schedule non-stop travel for up to 24 hours, or 1300 miles.


For out of town trips to events, where you may not need the coach for the day, such as a team competing at 1 facility, you may wish to schedule a day room for the driver, as any time the driver can book off, may be added to another days services, provided he is within his daily limit.


The daily limit for 1 driver , while on tour in Canada, is 14 hours from the time he meets the group in the morning to the time he says good night. When traveling in the USA, the driver can only be driving for 10 hours, behind the wheel, and 15 hours maximum work day.


For local services in Vancouver, we can easily extend the charter hours of service, by switching local drivers at a convenient time for the group. Usually we may make a change while the group is at dinner, or when there is a break in service. If there is no break, such as a continuous conference shuttle, we will transport relief drivers to the change point.


We do encourage adequate breaks for the drivers to complete a journey safely, and each driver understands when they may need a break. For Vancouver Conference shuttles, for 4 hours consecutive driving a 30 minute break may be required. When planning conference shuttles, we will work closely with our drivers to manage breaks and to switch drivers when necessary. Upon review of receiving a program outline, we will advise if extra care needs to be made to schedule driver breaks.


We do fully understand that the best made plans, may need to be changed during the course of trip. Changes in game schedules, road delays, and weather , tour guides discretion, or group interest. As circumstances arise our drivers will work cooperatively with the group leader / tour guide to reschedule the days activities. Also our dispatchers and management team are available to assist drivers and group leaders, in case of emergency. ISL office emergency telephone numbers will be provided at time of booking.
For actual rules & regulations on driver hours of service please visit Motor Coach Canada's website: http://www.motorcoachcanada.com/consumers/hours.html