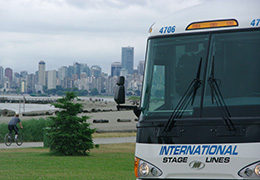 By nature, a charter motor coach operator provides customization of sightseeing tours for specific groups. The benefit of traveling on a charter basis rather than on a pre-packaged sightsee tour, is as follows:


Date and timing may be adjusted to suit changes in weather, or other schedule changes.

When traveling as a group, even 15 people together on a minicoach, you will be amongst only friends.

The driver will be responsive to the groups needs, not a slave to a predetermined route.

There are too many things to enjoy, why waste time seeing something you are not interested in.

By customizing an itinerary, you can see the places that you want to see, not what someone thinks you should see.

We can schedule pickups at any location; we are not chained to a specific routing.

We can coordinate door to door services, with use of vans, sedans, to bring people together from different locations, to join up with the main bus.

When you see something spectacular, you can simply tell the driver, to stop, and on a moment's notice change the order of events, and extend the finish time.

If you are booking a day trip to Whistler, and you feel that the weather may be better another day, we can reschedule.

We will provide suggestions of places to visit, together we will work closely with the group leader, travel agent, aor tour operator, to ensure that your sightsee tour, meets the specific interests of your group.


Please contact us for more information.