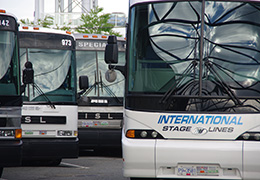 We want to ensure your client's complete satisfaction, while traveling aboard International Stage Lines. We can cater our terms and policies for all clients, so that we can meet your specific needs.



Schedules, costs, and payment terms will be clearly identified on Booking letter.
Special client requests and driver instructions will be itemized.
Guaranteed Confirmation of services will be issued immediately pending the start time/date of services.
For Advance bookings, of services 14 days or more away, confirmation will be issued within 72 hours of receiving request for booking.


If you are selling a local optional tour of Vancouver, to a pre-formed group while on tour through the Canadian Rockies or while at a Vancouver conference. The services do need to be booked in advance, however we can cater our cancellation policies to suit the tour operator, or event organizer. For more information on booking an optional tour, please contact us.


We will do the best to adjust our schedules with regards to arrival times, however we do require immediate notification from our clients should a flight schedule change. If a flight is delayed, and the driver is waiting at the airport, additional standby fees may be applicable.


Immediate direct transportation between 2 points, from Airport to Hotel, from City to City, etc. If additional sightseeing is requested, please advise our customer service team, so that we may schedule our services accordingly.


All prices quoted in a direct quotation or by a charter rate schedule, includes all time necessary for the driver to complete his pre & post trip inspection and reports, as well as travel time from our nearest base to pickup location and return to same base at completion of services.


We arrive 5 minutes ahead of the client requested spot time. For Vancouver Hotel to Airport transfers we suggest booking the bus to be at the hotel 20 minutes ahead of the time you wish to depart. For Sightsee tours of Vancouver we suggest you book the bus to be at the hotel, 10 minutes prior to the time you wish to depart, provided no bags are involved.


Refers to the long distance positioning of a coach based in one city, to pickup a group in another City. For example, for a group traveling from Calgary to Vancouver, we will need to add a deadhead charge of 1 day. If the bus is stationed in Calgary, we will need to deadhead the coach and driver at the end of their trip in Vancouver. If the coach and driver is stationed in Vancouver, we will need to deadhead the driver the day prior to the group's arrival into Calgary. All quotations include any and all applicable deadhead fee.


Due to initial start up and scheduling costs of a coach and driver, we do apply a minimum fee for services, this fee is clearly stated on your contracted rate schedules.


Services are calculated based on assessment of driver hours, miles traveled, and days used, when calculating the cost of a specific tour and itinerary. For quotation or more information on how rates apply, please contact us.


Our daily rates are based on 10 hours use, 240 miles traveled per day, averaged for the duration of the group tour.


All quotations will be responded to within 1 business day. Each quotation will clearly indicate the pricing for each days of service, as well as indicate how pricing may change should the itinerary or travel plans change. We will also clearly state the expected extra expenses that you may encounter when traveling, that pertains to the motor coach & driver.


We will advise of acceptable payment methods, at time of confirmation. We do accept, Visa & Mastercard with some restrictions. We also accept payment by Bank Wire, personal or company cheque, or by bank draft or money order.


Payment terms will be clearly outlined on your confirmation letter. Generally speaking services should be paid in full 2 weeks prior to Departure.
If services are cancelled by 48 hours prior to start of service, then all monies paid will be refunded in full.
For services cancelled after the driver has been dispatched, cancellation fees may apply, please consult with your customer service representative on the specific costs, should this occur.


Due to the special nature of large multiple bus requirements, deposit, payment, and cancellation terms will be clearly stated in the contract of services.


We prefer that the largest coach type you feel that will accommodate your group to be booked, as it is easier for our dispatchers to re-assign a smaller vehicle. However we don't wish to stand in the way of adding more people than expected to a charter, and will do our best to accommodate the change to a larger size bus. If the change is made by 3pm the day prior, there should not be a problem. For changes for a charter operating on a Sunday or Monday, please call our dispatch office at 604-270-6135 between 7am and 5pm the day prior to make the change.



International Stage Lines is not responsible for additional time, caused by acts of nature, traffic delays, flight delays, or other unforeseen circumstances. If an event should occur, we will try to mitigate additional time/distance charges as much as possible.
If a tour is shortened for any reason, weather, change of destination, flight schedule change, you will be charged only for what services are used.
If a tour is increased for any reason, flight delays delaying schedule, passengers wishing to spend more time visiting a destination, tour director changes the course of events, we will invoice you per the additional hourly rate, or portion there-of. We do rate our services in 15 minute increments.
For clients' who have prepaid services, you will be granted 30 minute grace period for invoice extensions.
To support schedule changes our driver's will ask the tour director or group leader for an authorized signature, to permit the additional time. If the tour director or group leader is not in a position to authorize additional time expenditure, please advise our customer service representative at time of booking.
The pricing is secured against changing currency costs.
The pricing is secured against future increases in fuel costs.
Incidental time extensions will be waived.
So that a formal contract of agreement of services, and delivery of services, between the bus company and chartering party exists.
To help alleviate changes in our dispatch schedules, as a result of peak demands, changes of driver schedules, emergency, etc… We reserve the right to change the coach order to a larger size coach, or to enlist the support of another coach operator on behalf of the client.
Any changes in bus size, or coach type, will be communicated to the client in advance of the charter, for approval of the client.
To receive further clarification on our policies, please email brad@islbus.com
Once a trip has been official confirmed, and invoice generated, pricing will not change.
If a quotation is pending, we reserve the right to adjust a quotation after 45 days.
For clients operating on a contracted rate schedule, and utilizing ISL on an exclusive basis for services in Vancouver and/or Victoria, we will give 3 months notice, before increased costs are to be implemented.
For contracted client's not utilizing ISL on an exclusive basis, we will give 30 days notice of price change.


Due to the varied nature of the tour and travel business in Vancouver & Victoria, with changing schedules, it is at times necessary to upgrade a coach to the next larger size bus, or to call upon another coach company to help us accommodate our clients varied travel patterns. Our most important goal is to be on time, and when someone else's schedule changes, we may need to call for help, so that your schedule remains as planned.

A subcontractor must meet the following criteria:
Equipment of equal quality.
Friendly & Professional, knowledgeable driver.
Driver to be in uniform, or neatly attired with shirt & tie, and proper pant & shoes.
Company Licensed to provide passenger transportation in the area being served.
Maintenance of a minimum $15,000,000.00 limited liability.
Meet all USA (DOT) & Canada (NSC) Regulatory agencies requirements.
Any changes in bus size, or coach type, will be communicated to the client in advance of the charter, for approval of the client.

We will never reduce the seating capacity of a coach booking without the direct written consent of the chartering party.

To receive further clarification on our policies, please email brad@islbus.com.